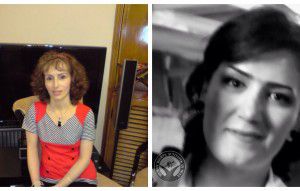 HRANA, April 25, 2015.
In late March, nine Bahais were arrested in Hamadan. In recent days seven of these have been released on bail, ranging from 25 to 60 million tumans (8000 to 19,500 euros / $US 9000 to 21,000). Two Bahai women, Farida Ayoubi and Fataneh Mushtaq (فریده ایوبى و فتانه مشتاق) are still being held. Those who have been bailed are Hamid Adharnoush (حمید آذرنوش), Mas`oud Adharnoush (مسعود آذرنوش), Shahin Rashedi (شاهین راشدى), `Atefeh Zahedi (عاطفه زاهدى), Roumina Tabibi (رومینا طبیبى), Mina Hemmati (مینا همتى) and Parvaneh Ayoubi (پروانه ایوبى). There is no indication of the reasons for the arrests.
Short link: http://wp.me/pNMoJ-2ir
Older items can be found in the archive, here. Even older news is here.